FusionWare Integration Products
FusionWare Integration Server is a proven middleware integration solution designed to address the needs and constraints of mid-market enterprises, their IT staffs and their solution provider to serve this critical segment of the market. With the FusionWare Integration Server, Mid-Market Enterprises can integrate their mission critical and legacy applications with customers and partners with a minimum of risk, time and cost.
FusionWare enables users to fully leverage their mission critical investments in MultiValue systems – independent of platform, version or vendor – without requiring upgrades or modifications.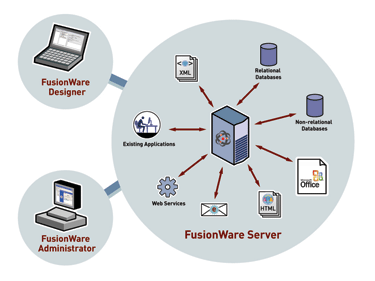 Product
Solutions and Uses
FusionWare Integration Server
A complete Web Services-based business process framework which combines a powerful workflow engine with an Enterprise Service Bus. The FusionWare Integration Server includes everything needed to accelerate the development and deployment of critical integration projects: Extend the life and potential of legacy systems with proven integration middleware tools that allow your applications to communicate with other systems running on any platform, operating system or development environment.
Create an Business Process Engine that integrates most anything
FusionWare Administrator
A very easy to use management console that allows you to remotely monitor and manage the overall system.
Remote monitoring and management of FWIS.
FusionWare Designer
An intuitive forms-based user interface, built-in code generators, wizards, query builders and powerful adapters that simplify and accelerate the development and deployment of service-oriented business applications.
Design powerful business processes for FWIS
FusionWare dbLynx 2SQL
Quickly move data from one Relational Database to another. Quickly create Data Warehouses from line-of-business databases for enhanced Business Intelligence.
Data warehousing, Business Intelligence
FusionWare mvLynx Connect API
FusionWare's mvLynx Connect API makes it extremely easy for your MV programmers to access data from SQL Server or Oracle without having to have any expertise with connectivity tools.
Multivalue BASIC program integration with SQL Server/Oracle Directly
FusionWare mvLynx 2SQL
An easy-to-use Windows based solution for exporting data from your MultiValue database application for use with Oracle®, DB2™, Microsoft Access™, Microsoft SQL Server™, or mySQL applications.
Designed for Data Warehousing, Data Migration and BI